Aviation ethics
Introduction by Andrew Shepherd
I've been involved in A Rocha since its formation in Aotearoa New Zealand in 2007 and also have strong connections with Servants to Asia's Urban Poor. There are interesting parallels between these movements: both were formed in the 1980's when individuals took seriously God's love for the earth (Peter & Miranda Harris – A Rocha) and for the poor (Viv Grigg – Servants) and relocated themselves to put this love into action.
Australian couple Mark and Cathy Delaney made a similar decision in 1995, shifting from middle-class life in Australia to slum communities in India. Mark worked with an Indian NGO, while family life was rooted among poor neighbours. Over the years, each time the Delaneys have returned to Australia, they've been shocked at the growing affluence and also the indifference towards the issue of climate change. The book, Low Carbon and Loving It, by Mark and his son Tom, challenges Westerners to adopt a more sustainable lifestyle for the sake of the poor and the planet.
In these days of cheap flights seemingly everybody is flying. Global aviation accounts for 2.5% of total carbon emissions and taking a single long-distance flight will usually be the single largest contributor to your annual carbon footprint. What difference do our individual choices actually make? Below, the Delaneys offer an economic analysis on why our travel decisions are important.
Article by Tom Delaney, first published 17 February 2018
At the launch of our book, Low Carbon and Loving It, I was asked a difficult question: [tweet_dis]'Flights go everyday from Sydney to Johannesburg. Whether or not I book a ticket and get on that plane, it will go. So what difference does it make if I fly or not?'[/tweet_dis]
Many of us will have wondered similarly ourselves. This is indeed a tempting line of thought, as it allows us to minimize responsibility for our actions. However, our choice to fly or not to fly does make a difference.
The easiest way to show this is to note that the plane's weight directly relates to how much lift is required, and hence to the rate of fuel consumption. Having you – rather than an empty seat – on a plane will cause more emissions. This argument is indisputable, but also inadequate: when a plane takes off, passengers and their baggage account for only 20–25% of the total weight of the plane. A typical 260-seat plane weighs 100 tonnes without passengers or fuel – almost 400 kg per seat. If we view our carbon footprint from flying as arising purely from the additional weight we add to the aircraft, we will significantly underestimate our emissions.
There is a more complex but more accurate argument:
[tweet_box design="default" float="none"]By booking tickets, we economically support an airline company and the routes it operates, increasing aviation's emissions over time.[/tweet_box]
Consider a daily flight route running at 80% capacity: the average plane on that route has 4 out of 5 of its seats occupied. Suppose that a small but significant proportion of passengers decide, over a period of time, not to fly, instead using other forms of transport or travelling less. The average capacity drops to 70%. The airline's profits are drastically cut and consequently, they reduce the frequency of flights to 6 times a week. A few passengers need to travel on a different day of the week, the average capacity rises again, and emissions drop.
My questioner was right: buying a ticket will have no impact whatsoever on whether this particular plane flies out today. But it does affect the likely number of future flights; the supply would drop to meet the demand.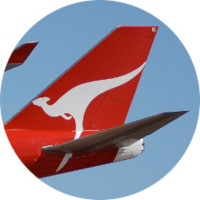 Though it is tempting to trick ourselves into believing that we have little responsibility for emissions from flights we take, the facts are to the contrary. Much to my own sadness, a return international flight can cause around 2 tonnes of carbon dioxide equivalent emissions – an individual's sustainable fair share for the year. Flying from Australia to India, I will burn roughly 4 months of my fair share carbon footprint in just one day. There are many ways I should, and do, respond to this – by trying to reduce the frequency of my flights, by doing some of the distance overland, by carbon offsetting. But attempting to deny my responsibility is not one of them.
Suggested action: Please visit A Rocha's Climate Stewards. Check how big your footprint is, reduce what you can, and offset the rest.
Smaller image: Qantas Boeing 747–400 by Aero Icarus (licence CC-BY-SA-2.0)
We are happy for our blogs to be used by third parties on condition that the author is cited and A Rocha International, arocha.org, is credited as the original source. We would be grateful if you could let us know if you have used our material, by emailing [email protected].