Snapshots of A Rocha: the kingdom of God is here!
'The time has come! God's kingdom is already here.' (Mark 1:15)
As a child growing up in church, I heard and read these words by Jesus countless times. God's kingdom is 'here', it's 'close', it's 'coming'. Yet, little did I know just how close that kingdom of God really is! Or that I would discover it in truly unexpected ways …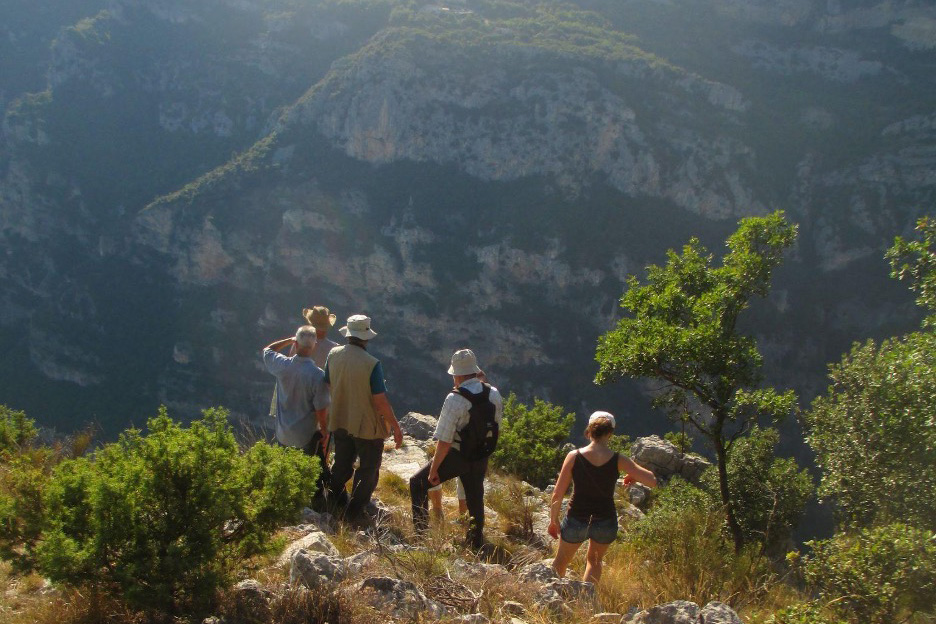 When I visited A Rocha France's Les Courmettes centre with a friend, I was not only struck by the beauty of this secluded place in Provence. Here, I experienced first-hand what hospitality meant. We were welcomed at a large table, and then served delicious French cuisine (and I mean really delicious!).
Of course, it wouldn't be a good meal if it weren't also for good conversations and enjoyable community. The more I listened and learned about the biblical calling to be good stewards of the Earth, the more I sensed an inner peace descend upon me. Nature had always been my first love. Now I knew that this was a reverence instilled in me by my Creator. And I finally understood that this was the planet that God wants to renew along with us, rather than destroy and replace.
The magnificent surroundings at Les Courmettes spoke loudly indeed. The presence of the Creator was so tangible in these awe-inspiring cliffs and valleys. It was so real in the tiny details of countless butterfly species (which I must confess I never learned to tell apart …). 'The Earth is the Lord's, and everything in it': these words from Psalm 24:1 were written in the sky and in the stones.
God's kingdom is already here.
---
How quickly strangers can turn into friends! This was demonstrated to me during a visit to the Swedish friends of A Rocha. I was warmly welcomed by people I didn't know before. The father of a young family smiled brightly as he offered me some of the most delicious home-made elderflower syrup I've ever tasted. God's generosity and creativity shines through when we share his blessings.
Clearly, this is the fragrance of A Rocha, I thought to myself, as that familiar pattern of warm-hearted hospitality, inspiring conversations, hands-on activities and good community re-emerged.
---
And this is a pattern which transcends cultures and countries, as I've learned from my international friends.
Amazement filled us in a local forest as my Indian friends and I were approached by a tiny Blackcap just several centimetres away. In that moment we could encounter God, the One who created us all.
I've rarely been blessed as much as I was through my generous Hindu, Buddhist and Latino friends. Shared meals, adventurous trips in the wilderness, celebrating thanksgiving in January (talk about different climates!), blessing and learning from each other, reverence for this miraculous world we inhabit… It all spoke loudly to me: God's kingdom is here. It's in the everyday encounters, in the shared blessings, in good food, in thriving biodiversity, in people's dignity.
---
Of course, this kingdom of God is frequently dimmed and overshadowed by the sinfulness of humanity. It's why we pray, 'Your kingdom come, your will be done, on Earth as it is in Heaven' (Matthew 6:10).
It's why there are good deeds prepared for us by God (Ephesians 2:10). We're here to help restore God's Earth and bring signs of the kingdom of God here on Earth – the way God always wanted it to be.
In God's creation, in the bounty of his table and in sharing his blessings, we can encounter the Creator and find traces of the kingdom of God here and now. A Rocha has been a part of that encounter for me. Now, home in Croatia, I'm yearning to try the first figs of the season again. Sweet figs manifest to me once again that God's kingdom is right here! How about you? Where do you sense signs of the kingdom of God, in A Rocha's work, in other people, in God's created world, and in the relationships between these?
We are happy for our blogs to be used by third parties on condition that the author is cited and A Rocha International, arocha.org, is credited as the original source. We would be grateful if you could let us know if you have used our material, by emailing [email protected].
4 responses to "Snapshots of A Rocha: the kingdom of God is here!"