Postcards from the Middle East by Chris Naylor: 4. Visitors drop a bombshell
1996–98 The Bekaa Valley, Lebanon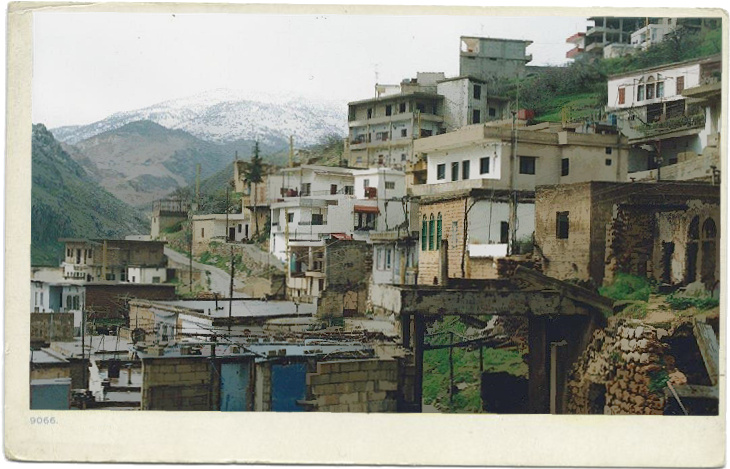 Qab Elias, Bekaa Valley, in 1996, home to the Naylor family during their early years in Lebanon
Chris and Alison [Walley] often arranged for the visits of scientists, conservationists, and policymakers to the wetland and that generally meant a stay at our apartment, at least for a meal. The visitors usually came from Beirut and stayed for lunch. These visitors were coming from Portugal and might stay… well, Chris wasn't sure. In any event they were welcome, particularly when we discovered that they had founded the first-ever Christian Field Studies Centre and a conservation organization called A Rocha near a wetland on the Algarve.
Peter and Miranda Harris spent what turned out to be nearly a week with us. It started off innocently enough. I was delighted to meet a fellow birder who both knew his Mediterranean birds and had thought through many of the theological issues I was grappling with as a newbie Christian worker. Susanna was delighted that Miranda was not a birder and that she took an instant and real shine to our children. The kids loved visitors, particularly the rare kind who read them stories, and they enjoyed the family picnics arranged to show the visitors the wonders of our corner of paradise.
With the children playing in the stream and Susanna and Miranda comparing notes on cross-cultural living at opposite ends of the Mediterranean, Peter and I were sitting quietly on a promontory overlooking the Ras el Ain gorge, just above the village, where I had promised Peter we would see Western Rock Nuthatch. We had heard the liquid trill already so knew that the birds were around, but as yet had not had a sighting of these rock acrobats, wearing their highwayman masks.
I used the pause in activity to ask Peter what he felt about Abu Charbel's jibe, which still bothered me (see the last blog). After hearing me out, Peter replied, "You are breaking the mould. Abu Charbel, like many others, thinks the church should keep to traditional areas of work. Teaching the Bible, pastoral work, education, and perhaps medical relief. Of course, even if that is your starting point, the environmental crisis is now so serious that there are more refugees from ecosystem breakdown than war, and the church needs to get involved."
"But what about priorities?" I pressed. "What is the most important thing? Preaching, poverty relief, or conservation of rare species?"
"It is very rarely either/or, certainly at a community level. And that is how we should be working. A church that doesn't have an answer to today's biggest issue will not be listened to for anything else. But even that is pragmatic. At root it's about obedience. God commanded us to look after the creation for him, and it is by doing what we were created to do that we worship. We worship by being obedient."
Things were clicking into place. "And that is how creation worships. I mean plants, animals, even rocks – matter! Matter matters because it can worship by being what it was created to be – do what it was created to do."
"And that is the heresy of extinction," Peter went on. "There is an extermination of species due to human activity that has pushed the extinction rate to a thousand times the normal. We are silencing the choir that should be singing glory to God. Think about conservation projects that demonstrate God's love for his created world, protect the environment for the poorest communities, and give opportunity to explain the 'why' – why is the church saving an orchid – to those of faith and to those of no faith."
Before the conversation could get more personal, I was saved by the Western Rock Nuthatch which made an appearance on a rocky ledge on the opposite wall of the gorge.
We continued to delight in showing Peter and Miranda our new world and they continued to open up a bigger one for us – or more accurately, this one, but looked at through a biblical lens. Just before they left, Peter and Miranda had one more surprise for us.
"We think it looks like you have the makings of an A Rocha project here," said Peter, as we drank our after-dinner coffee, having cleared the plates and children from the table.
"There are the key ingredients of the recipe," Miranda continued. "A precious wildlife haven crying out for conservation, with Christians working through their theology at the spearhead of a community trying to save it."
This was not too much of a surprise, as we had been talking through the week of the possibilities of conservation, environmental education, and even eco-tourism at the marsh, learning from the A Rocha experience in Portugal. But Peter and Miranda had saved their bombshell to the end. "And we think you are the right couple to lead it."
This is the fourth of six excerpts from Postcards from the Middle East by Chris Naylor. Published by Lion Hudson in March 2015, it can be ordered from its page on the Lion Hudson website
We are happy for our blogs to be used by third parties on condition that the author is cited and A Rocha International, arocha.org, is credited as the original source. We would be grateful if you could let us know if you have used our material, by emailing [email protected].