Noah – Beyond the blockbuster
Noah's been in the news recently. Darren Aronofsky's eponymous film has caused controversy and discussion by deliberately playing fast and loose with the biblical account. Critics have mostly loved it whilst the viewing public have been more ambivalent (Rotten Tomatoes gives a 77% rating from critics, 46% from general audience). Knowing that Noah was next in my blog series on biblical eco-characters, I reckoned I had to see the movie!
I was surprised. From what I'd read, I expected a nonsensical Hollywood blockbuster with CGI animals, rock monsters and epic sword-and-sandals battle scenes: Transformers meets Lord of the Rings rather than Cecil B DeMille. All that is there and more: it's easy to criticize the film for the unnecessary unbiblical baggage it introduces – romance, sibling rivalry, blood, gore and magical happenings. Yet, there is also beautiful and imaginative cinematography – not least as Noah retells the Genesis creation account to his family. More importantly, Aronofsky is wrestling with some deep and searching theological questions: Why has a world that the Creator made so beautiful and good gone so badly wrong? What part do humans continue to play in spoiling it, and can we ever be part of the solution?
However, 'Noah' the movie ultimately fails to deliver for three reasons. Firstly, the animals are deeply disappointing. Whilst the film's desire not to harm any living creature can be praised, the resulting CGI menagerie is unreal, unbelievable, and unable to evoke empathy – generalized pushmepullyou-like figments of a myopic digital imagination rather than the real, mysterious and magnificent creatures that actually inhabit the earth.
Secondly 'Noah' creates a false choice. On one side are the animals, innocent and to be protected. On the other side are the humans, slaves to technological domination, fleshly lusts and various other assorted deadly sins. Poor Noah is left with an impossible choice. If the world is to be cleansed and the animals saved then even he and his family must eventually die, or even be killed by him. The message is clear that the only possibility of a good world is one without humans. I'm thus, unusually, forced to agree with Glenn Beck that the film is 'strongly anti-human'. I don't think this was Aronofsky's intention, as his saccharine ending suggests, but it is the logic of his telling of the story.
Thirdly, and most tellingly, the film sidelines the key character in the biblical drama. God is referenced throughout simply as 'the Creator', a powerful but unknowable being whose creatures struggle to understand his purposes. Aronofsky's choice is between an anthropocentric (or ego-centric) world – built on human ambition and progress – and an ecocentric world, where humans are marginal or extinguished, but there is a third possibility. The biblical account of Noah presents a radically Theocentric worldview.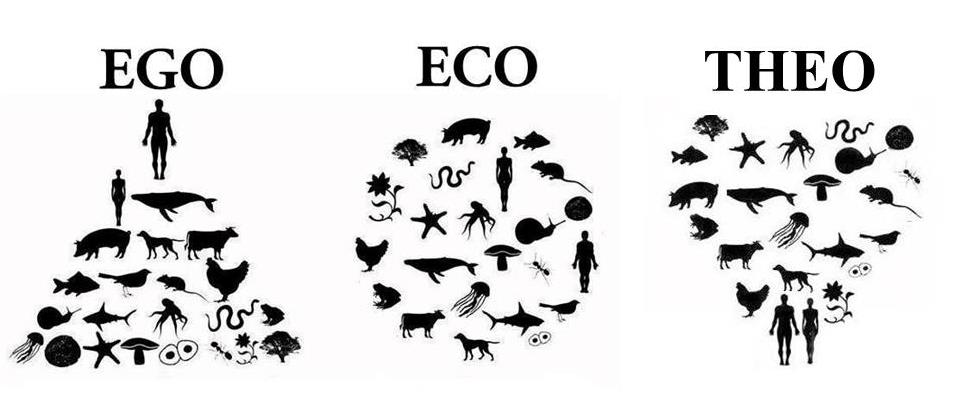 God is not only the Creator, but personally and intimately involved in the life of all creatures – human and nonhuman. God's good purposes are far wider than narrow human interests. The ship of salvation includes every species – 14 of some and 2 of others, with just 8 humans. The biblical God is therefore passionate about biodiversity conservation, yet not simply to provide Noah with a varied diet or a floating zoo, but because all these creatures matter deeply to God. They are to be kept alive simply, 'So that their kind might continue upon the earth'. The biblical account therefore shatters the myth that God only cares about saving souls, or even just saving people. Yet that doesn't make people irrelevant either. God chooses Noah, and in the biblical story's climax God's rainbow covenant includes people, all other creatures, and even the earth itself. This is so much more satisfying than the conclusion of 'Noah' the film. God is committed to the project begun in Genesis 1, and humans are part of that project – called apart despite all our flaws and failures to protect and serve our fellow species.
In the end I'm grateful to Darren Aronofsky for 'Noah' because it made me think and look again at a biblical story we're inclined to leave behind in Sunday School. It is indeed a tale for our times (even more so without the unnecessary extras the film introduces) because it points to a God who cares for all creatures, and calls us to do so too. And that's the point. The last word belongs, suitably, to Darren Aronofsky: 'To try to remove an environmental message from the story of Noah is a bigger edit job than to emphasize it… There is clearly an ecological message there.'
We are happy for our blogs to be used by third parties on condition that the author is cited and A Rocha International, arocha.org, is credited as the original source. We would be grateful if you could let us know if you have used our material, by emailing [email protected].
11 responses to "Noah – Beyond the blockbuster"