Yours virtually
I have just returned from Provence and four days of meetings with the A Rocha International Team. Banish from your mind right now images of pastis under the vine and gentle games of pétanque beneath the plane trees, and have a look at the photo below where you will see two of us taking a short break from working our way through a carefully constructed agenda. So good to be face to face again – or should I say screen to screen?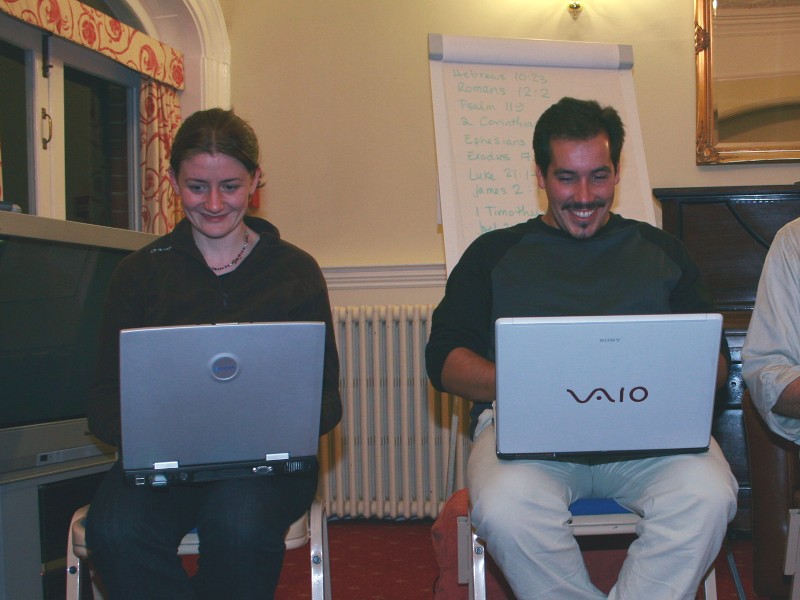 It was one of those epiphanic moments. Casting an eye over the dining room one evening after supper was cleared away, a sea of whirring, clicking, ding-ing computers met my gaze. I backed off and veered towards the common room in search of conversation. Same scenario. Hmmm… Of course these are particular circumstances, exceptional times. We need to get that press release out, there's the next National Organization visit to co-ordinate, flights to book, a spouse to catch up with, a potentially life-changing clip on You Tube which I have to see (and forward to half a dozen others, whose lives will almost certainly be changed too) and then I've neglected Facebook for three evenings in a row, and disgruntled messages from 'the team' tell me I'm keeping ten new friends waiting.
A few weeks ago I was minding my own business (tweaking a talk I'd written in my notebook with my favourite fine pen) on the 10.17 from Pewsey to Paddington. Suddenly my neighbour leaned towards me, and with a note of incredulity in his voice enquired: "Are you Miranda Harris? I recognize your handwriting!" Now I don't want to labour the point here, but I suspect he wouldn't have leaned over my laptop and said "Aha! I recognize the font you've chosen…" He was a former Cruzinha volunteer and we hadn't seen each other for about 15 years. We had a delightful catch-up.
Building community is very important to us in A Rocha – so much so that it is one of our core values, intrinsic to our identity and a fundamental commitment throughout the organization worldwide. Let's be clear what we don't mean by this, namely tracking down people Just Like Us, finding a nice place, preferably in the country, pulling up the drawbridge, and settling down to a cosy life shaped by agreed principles and preferences – oh, and sustainable of course. With free-range chickens in there somewhere. And courgettes.
No, our understanding would be more along the lines of gathering in all and sundry on the basis that everyone is made and loved by God, and Christians aren't his favourites – not even green ones. More like the apostle Paul, I suppose, who looked out over a seriously mixed bag of people in Athens and declared "For we are God's offspring." (Acts 17, italics mine.) We understand community not as something  you join, but as something you are already part of. So our task is not to go looking for one that suits our taste, but rather to identify and embrace the one we already belong to. This can be a surprising, and often delightful business. "So this is my place!" we exclaim, "These are my people!"
Now I happen to think that I can't really know my people, can't really be known by them, if we only ever tweet each other, or decorate each other's walls. Please don't get me wrong. I think it's just possible I was a Luddite once (is there anyone else out there who has answered the phone with the TV remote control?), but I'm a reformed character. No, really I am. Really. Or maybe virtually. Anyway, the truth is that I'll probably always be a recovering technophobic at best. I know it's not always possible to sit by the fire with a pot of tea or a bottle of wine, and that it's close to miraculous that we can coo at someone's newborn, minutes after it made its appearance on the other side of the world, and yet…
I'm not entirely alone in my angst. The best-selling novelist Jonathan Franzen had a little rail recently against Amazon Kindles, declaring that digital books are not for serious readers. My father was a prolific reader, writer and book-seller, weaving his own memoirs around a lifetime's collection of treasured volumes. Our own home is mostly made up of book-cases. So I agree with Jonathan. Maybe I should set up a Skype conference with him and a few others to discuss it? Or maybe I should just get over my issues and develop some gratitude? For example: "Thank you God, you who flung stars with names into space, for giving us these amazing ways of communicating with each other − But please, oh please, let me keep hugging my friends, looking deeply through their eyes and into their souls."
And now I really must go and post this letter… Er, I mean blog.
We are happy for our blogs to be used by third parties on condition that the author is cited and A Rocha International, www.arocha.org, is credited as the original source. We would be grateful if you could let us know if you have used our material, by emailing [email protected].
4 responses to "Yours virtually"