To boldly go? Exploring planetary boundaries
Once upon a time we believed 'the sky's the limit'. Then we discovered 'space, the final frontier'. Now we reach out 'to infinity and beyond'. Is there no limit to our ambition? In an era when yesterday's science fiction is tomorrow's world, where virtual reality unleashes our imagination, and fact and fantasy intermingle, there are plenty today seeking to transcend any remaining boundaries they can: space, time, sexuality, even death.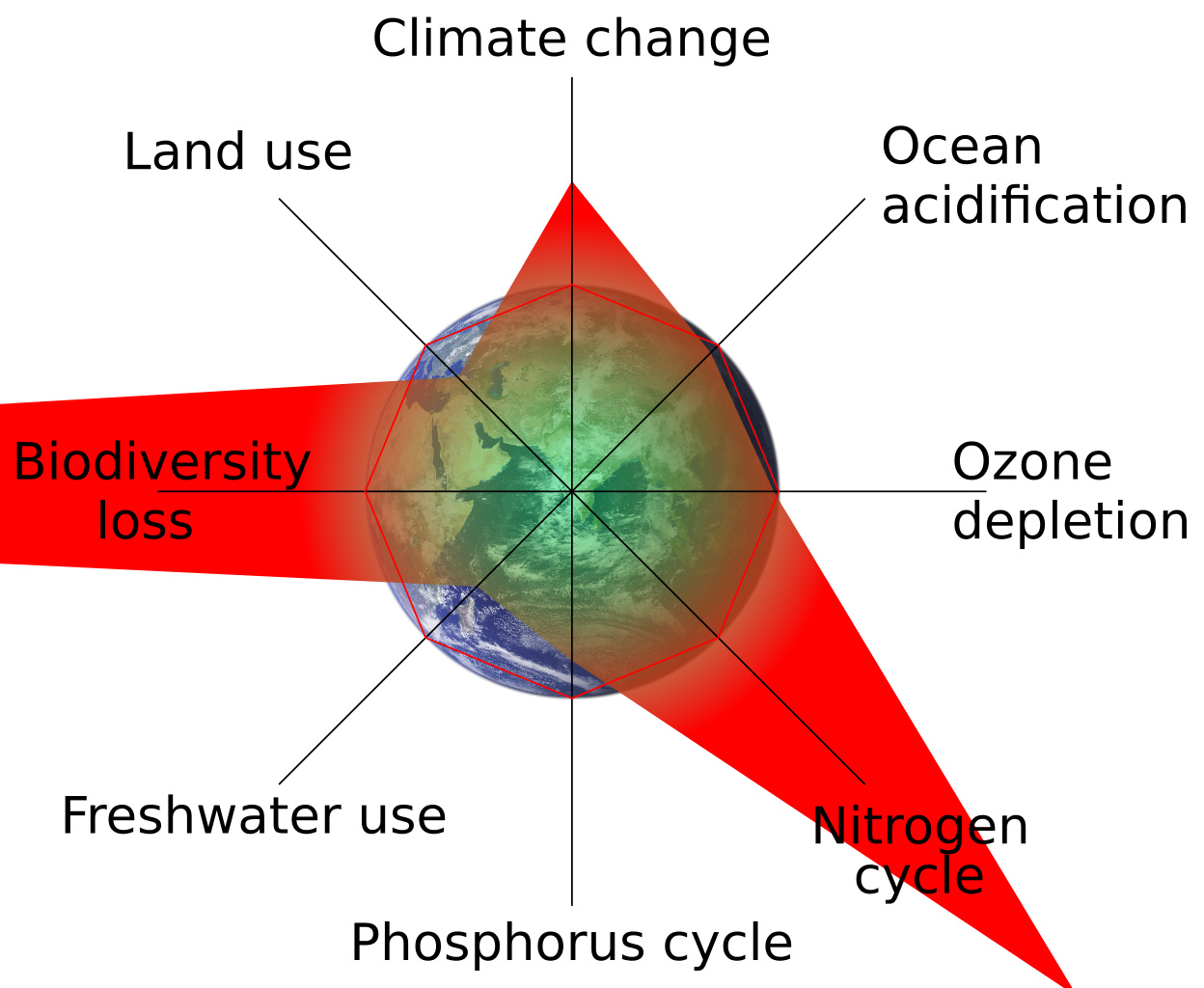 The idea of boundaries, of any kind of limits, has become counter-cultural. You can be whatever you want. Choice and freedom have become idols. The world, and space beyond it, contains unlimited resources for consumption, manipulation and desire. It's the worldview of the first European settlers in America writ large by globalisation: an endless landscape of unbounded possibilities.
It's also a major part of why tackling humanity's massive global footprint never gets to the top of most political agendas. We simply don't want to be told 'Enough! You can't have that.' Perhaps it's also why one of the most important concepts of recent times, that of 'planetary boundaries', has remained largely an in-house idea for the eco-aware.
Planetary Boundaries was first proposed in 2009 by Johan Rockström and colleagues from the Stockholm Resilience Centre, and has gained widespread scientific support and stimulated much debate. It consists of nine planetary systems upon which all life depends, with a calculation of the threshold, or boundary for each. Remaining within these boundaries gives the possibility of a 'safe operating space for humanity', whilst transgressing them could lead to abrupt and disastrous environmental change. Worryingly, although findings are still tentative and in some cases disputed, scientists judge that the boundaries in three systems (rate of biodiversity loss, climate change and human interference with the nitrogen cycle), have already been exceeded.[*] We are possibly beyond the point of no return, not in terms of survival (yet) but in terms of stability and hence safety.
So, what does a theologian think of all this? Firstly, a quibble: the concept is limited to a 'safe operating space for humanity', but God designed this planet as an ark for every species and cares about all that he has made. Yet the anthropocentrism is understandable. It is humans who are putting pressure on planetary boundaries, and it is therefore we who need to get our act together.
More importantly, the concept of boundaries is a helpful one theologically. In Genesis 2, Eden is a safe operating space for humanity as long as boundaries are respected. Humans are described as contingent beings, tied to the earth (souls from soil, Adam from 'adamah', humans from humus). We are animated by God's Spirit, not by a cartoonist's brush, a surgeon's scalpel, or a scientist's genetic manipulation. We are bounded by space and time, and by our utter dependence upon God and the environment of which we are part. We are not at liberty to mutate or evolve away from our calling as humans, which is in essence to worship God, to love our neighbours, our enemies and ourselves, and to serve and preserve the fellow creatures with which we share this planet.
We need boundaries. Ask any parent. 'God gave me skin, to keep me in' as the kid's song goes. Boundaries are vital, biophysically and also spiritually. Christians, of all people, should celebrate that God has created boundaries, not to restrict but to enable our freedom, and to give us a safe operating space within which to thrive. If politicians aren't going to take up the vision of planetary boundaries (they're too scared of limits to growth), then perhaps the global church should take up the cause? Let's learn to celebrate living within the safe space of God-given boundaries.
[*] There is particular debate around whether some boundaries, particularly biodiversity and land, have clear 'tipping points' or rather at the global level display slow variables. However it is suggested that local and regional tipping points for these variables could collectively add up to global concern. See their page Addressing some key misconceptions.
We are happy for our blogs to be used by third parties on condition that the author is cited and A Rocha International, arocha.org, is credited as the original source. We would be grateful if you could let us know if you have used our material, by emailing [email protected].
6 responses to "To boldly go? Exploring planetary boundaries"