Postcard from Portugal: Flying together at the A Rocha Leaders' Forum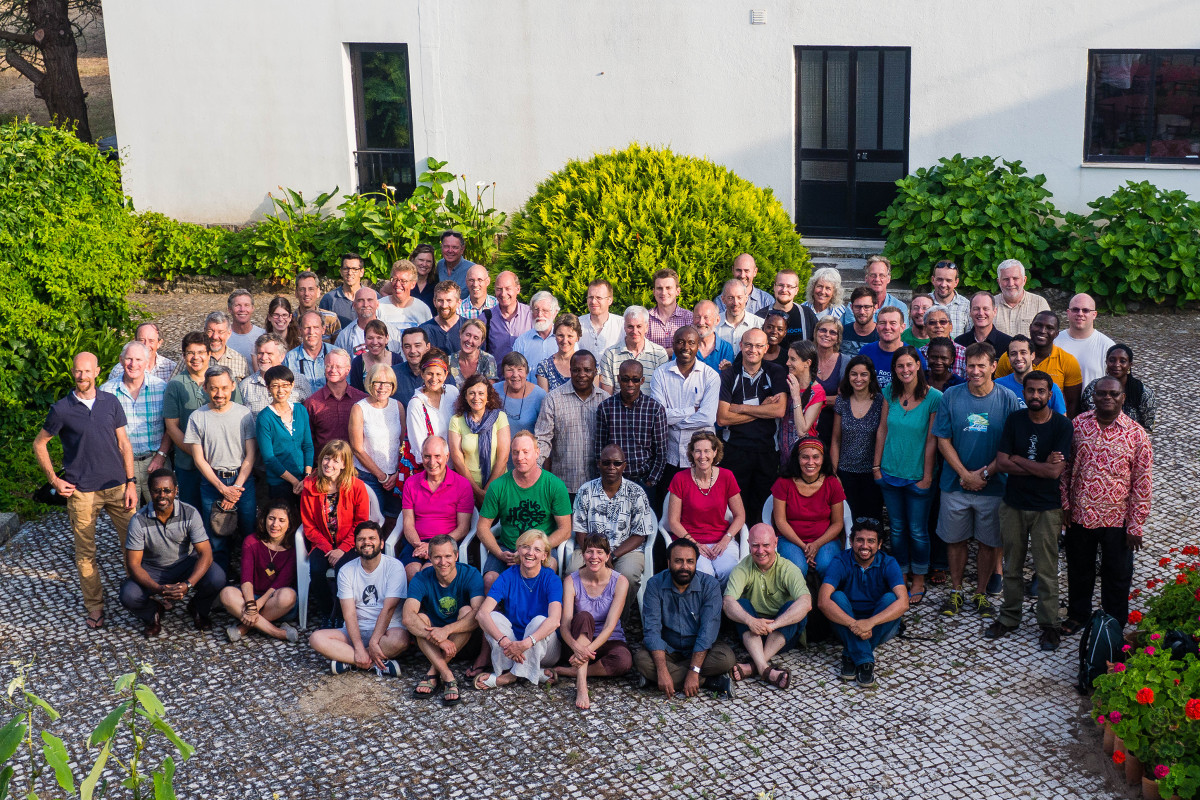 Every spring and fall, the North American prairies host a remarkable event. It's called kettling. Migrating Sandhill Cranes Grus canadensis pause en route to come together and ride the thermals. Their numbers reach hundreds of thousands, all aloft, all rising and soaring in a mysterious symmetry. I've stood below such a spectacle of swirling flight and marveled. What calls them to come together? Why not just set off in their individual flocks, as efficiency would dictate? I am not an ornithologist. I'm a storyteller and so my anthropomorphized version would go something like this: the Sandhill Cranes come for a family reunion of sorts – swap stories of the past season, make plans for the next, and encourage one another for the next leg of the journey.
I've just come back from a similar sort of family reunion. It was seriously lacking in the plumage and spindly legs of the cranes' gathering, but we did come from varied flocks to fly together for a while in Portugal. A Rocha leaders and other participants from over 20 countries, on every continent but Antarctica (we're still waiting for the penguins to send a delegate) came together for a five-day gathering that occurs just once every three years. We sang with gusto in at least three languages and were challenged by the wise words of biblical theologian Ruth Padilla DeBorst. But most of all we were encouraged by the incredible stories shared − stories of saving forests in Ghana, Nigeria and Kenya, stories of opening the eyes of children to the wonders of creation in New Zealand, the UK and Uganda, stories of significant conservation research on elephants, storm-petrels, and plovers.
They were good stories. They were bolstering stories.
Would you like to hear one?
This one comes from Mwamba, A Rocha's field study centre in Kenya, on the Indian Ocean coast and was told by Jaap Gijsbertsen who, along with his family, spent a year and a half helping lead the work.
He was asked to provide a retreat and teaching for Erisata, a community development organization in the Masai Mara reserve. Jaap happily agreed and put together a one-week course that included the theology of creation care as well as practical application, with plenty of time spent getting up close and personal with habitats and creatures surrounding the A Rocha centre.
At the end of the week, the A Rocha team took the Masai participants out in a glass-bottom boat over a coral reef reserve where they conduct their conservation research.
None of the participants had ever been in a boat, let alone swum in water. As herdsmen, living 700 km from the ocean, learning to swim is completely irrelevant and even going into water is seen as dangerous and irresponsible behavior.
Therefore, when Jaap offered these dignified Masai land-lovers snorkels, fins and masks, they balked. But with a bit more coaxing the village headman and pastor showed his leadership by accepting Jaap's offer.
After strapping a flotation device around his waist, he took the plunge, and proceeded to float face down over the coral reef. He floated so long, without coming up for air, that his fellow tribesmen began to grow restless. Just as they were arguing about who should go to the headman's rescue, he shot his head from the water. His face broke into a wide smile as he shouted, 'Halleluiah! God is truly amazing! You will not believe what is under there!'
His amazement at the beauty of what he had beheld was infectious and almost all the other participants went in as well, each emerging with his own wonder-struck expression.
The week came to a close and the participants left transformed. They left not only with a fuller biblical understanding of God's love for all of creation and their responsibility to actively care for the Masai Mara, but with an awe-inspiring first-hand understanding of a world they never knew existed.
And because, as leaders of A Rocha National Organizations, we came together and heard this story we left transformed as well – transformed in the knowledge that creation care begins with wonder.
Creation care begins with wonder and is sustained by gathering in friendship, song, wisdom and the sharing of stories.
We are happy for our blogs to be used by third parties on condition that the author is cited and A Rocha International, arocha.org, is credited as the original source. We would be grateful if you could let us know if you have used our material, by emailing [email protected].
One response to "Postcard from Portugal: Flying together at the A Rocha Leaders' Forum"