Homecoming by Rachel Mander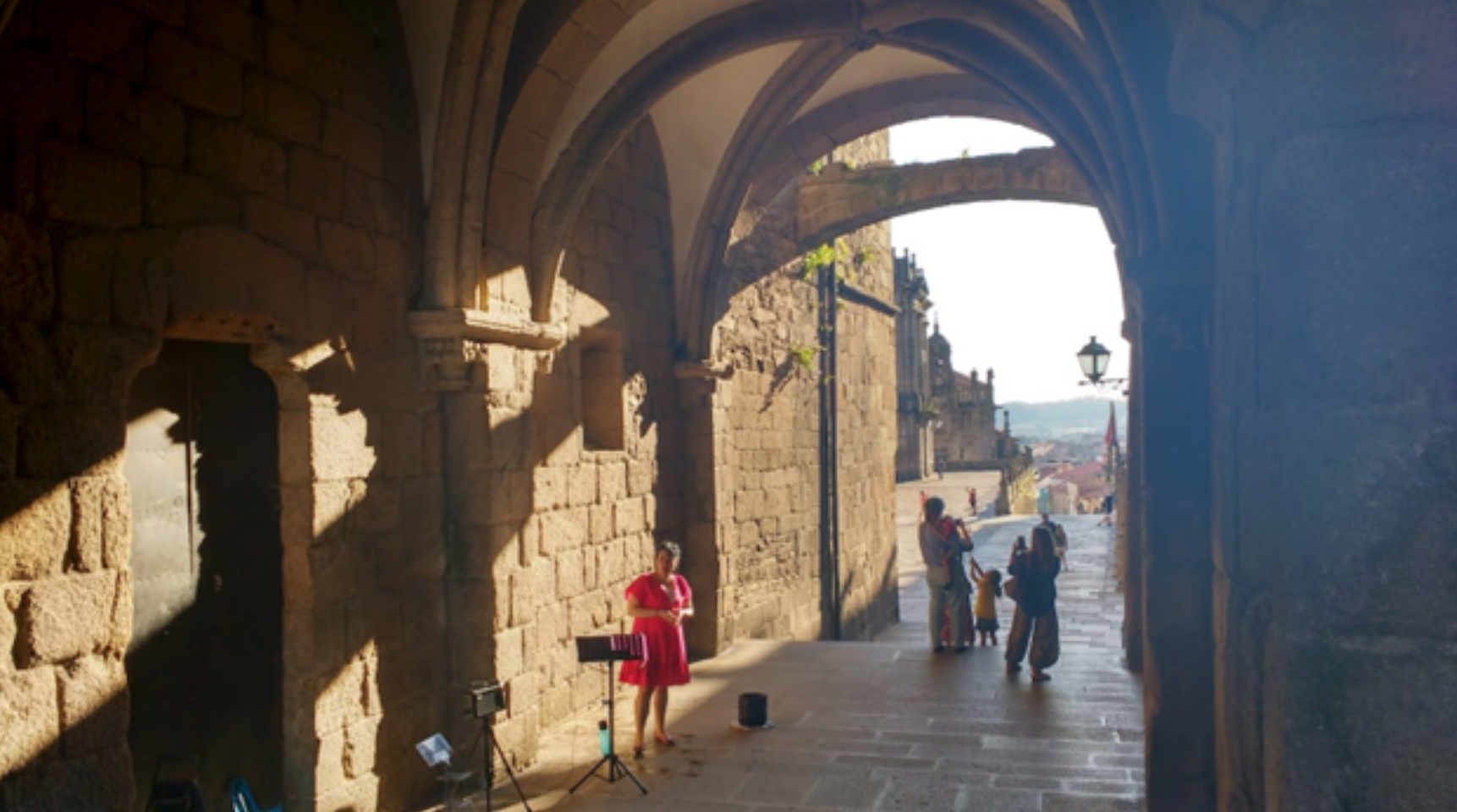 This is the third in a new series of blog posts from around the A Rocha family exploring how someone first found a home with A Rocha, their memories of hospitality here, and how this changed how they know God.  
A book exploring these themes, A Place at the Table: Faith, hope and hospitality, has just been published, with all royalties going towards the work of A Rocha around the world. It is co-written by Jo Swinney, A Rocha International's Director of Communications and her mother, Miranda Harris. You can buy the book here. 
Walking through the archway at the end of the Camino de Santiago  
I wonder what comes to mind for you when you think about 'homecoming'. Strangely, one of the times that I experienced the feeling of 'homecoming' most acutely was in a setting which was not formally my home: the end of walking the Camino and arriving down the steps and under the archway into Santiago de Compostela.  
I think we often associate the word 'homecoming' with familiarity. Certainly, eating a bowl of my Mum's carrot and orange soup, or returning to the house I lived in for a year in London carries that sense of homecoming for me that makes me feel like I am suddenly breathing a little more deeply.  
And yet, I think what is at the root of 'homecoming' is not really familiarity, but belonging. I have a developing tradition with my old housemates that we often mark special occasions together with homemade pizza. We no longer have a place that we share together as home but wherever it is that we meet, it still feels like a homecoming of sorts because being with them is a belonging-with-them.  
I discovered A Rocha  at a point in my life when I felt like my own convictions about God's love for his creation and call for us to enact the same care were putting me at odds with other Christians. This discovery too felt like a 'homecoming', an experience of belonging which opened up new ways of being and knowing God alongside others.  
Psalm 23 ends with 'and I will dwell in the house of the Lord forever'. Our being with the Lord is a homecoming. In some ways our lives consist of walking each other home: where we arrive is not somewhere we are yet familiar with, but it is somewhere we all belong.  
Scripture tells the story of God longing to be with his people. God walks with Adam and Eve in the garden, sojourns in the desert in a tent, resides in Solomon's temple, becomes incarnate as a baby and ministers among us, assures continued presence 'to the end of the age' and sends the Holy Spirit. We await the promise of Revelation 21 'God's dwelling place is now among the people, and he will dwell with them. They will be his people, and God himself will be with them and be their God'. 
I am grateful to have A Place at the Table within the A Rocha story and to know that this is a part of a much wider, greater, richer and more magnificent story of belonging to God and walking home together with others to one day dwell in the house of God. 
One response to "Homecoming by Rachel Mander"