Growing pains: Population, Consumption and Economics
Population, Consumption, Economics: three words that are desperately important for our future on planet Earth. They are linked by one problematic word, 'Growth': exploding global population, increasing per capita consumption, and political obsession with economic growth. The question for each is the same, 'How much is enough?', and it is critical that we look at them together rather than separately.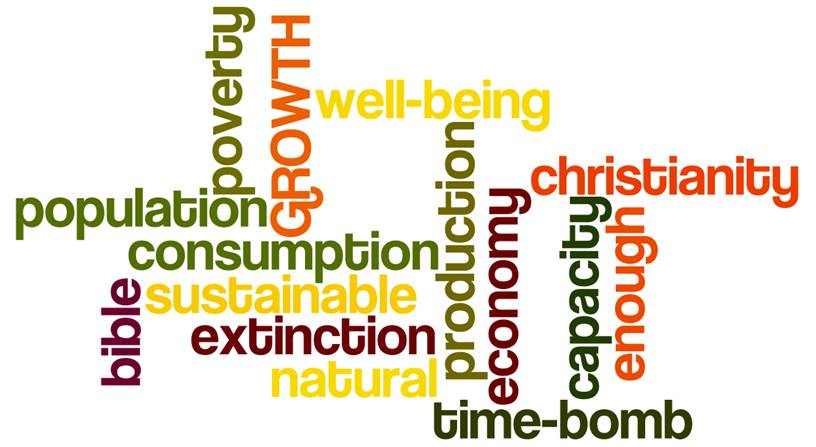 Some things are beyond dispute. The world's population grew from c.1 billion to 7 billion between 1800 and 2011. At the same time, the industrial and technological revolutions meant economies and food production grew even faster. Consumption and pollution rates followed and, whilst the link between economic growth, population growth, and consumption is complex, it is obvious that those living in industrialised countries consume and pollute far more per person than those in 'developing' countries.
So, can we keep growing our population, consumption and economies? This is where it becomes highly contested! On population, whilst St. Jerome, in the 4th century, stated 'the world is already full',[1] other Christians quote Genesis 1:28 ('be fruitful and increase in number') as divine encouragement to have big families, and techno-optimists believe an ever-expanding population will drive technology to produce more and more. Others believe population growth is stalling and will start declining globally in the late 21st century, causing severe economic and social problems (fewer young people meaning fewer workers to work, pay taxes, and look after the elderly).[2]
All of this, however, overlooks three things. Firstly, there is a moral problem when citizens in rich nations (whose populations exploded in the 19th and 20th centuries) lecture poorer countries on population growth. In the context of relative consumption levels, this seems suspiciously like guilt-displacement. Evidence shows that the best routes out of rapid population growth are eradicating poverty and educating women.[3]
Secondly, even if population stabilises or declines, whilst current economic and consumption growth rates continue, we are on course for a massive resource crisis. Development organisations need to think hard about the ultimate goal of development. Creating billions more indulgent consumers may not be good for anybody. In 2007 the average global ecological footprint was 2.7 hectares per person whereas the earth's biocapacity is calculated at around 1.8 hectares per person.[4] 'This means that humanity has already overshot global biocapacity by 30% and [is] … eroding critical life-support systems.[5] Yet, consumption is very uneven. Those living in some oil-rich states have a per capita ecological footprint 10 times that of the least consuming 20 countries. From an A Rocha perspective, of the 19 countries where we work, 14 have an unsustainable footprint, and only 5 are below 1.8 hectares per person (Ghana, Peru, Uganda, Kenya, India). For Christians, tackling such massive inequality and the impact it has on the poorest, is an issue of justice. Over-consumption is a spiritual issue.
Thirdly, most contemporary discussions on population, consumption and particularly economics share an unspoken assumption that this planet is here for humanity alone, and our sole priority is a safe operating space for human thriving. Christians, though, believe the earth and every creature upon it are God's. Psalm 104 is one of several biblical passages that portray humans as simply one amongst the many creatures God creates, feeds, delights in, and protects. As I argued in an earlier blog, God's instruction to 'fill the earth' is not about overpopulating the planet but an initial invitation to spread into every habitat. Why? In order to fulfil our calling to bear God's image in how we care for the earth and all its species.
Growth is natural in plants, platypuses, people and populations. But God's creation teaches us that growth has its seasons. Cancers, viruses and invasive species are amongst the few things that grow without ceasing. When our obsession with growth, whether in population, resource-use, or economies causes harm not just to our own species but to the ecosystems and planetary systems upon which all life depends, then we are behaving idolatrously.
The subject of 'Prosperity without Growth',[6] and whether we can find alternative measures of well-being, needs far more serious attention from economists and others. The Bhutanese model measuring 'Gross National Happiness'[7] is a great start. Significantly, it is a faith-based approach, within a Buddhist framework. It would be great to see more biblical contribution to this debate too. So, what measurable values can we discern from scripture that would replace GDP with GPT … God's Plan for Thriving? Over to you …
Endnotes:
[1] Noonan, J. T. Jr., (2012), Contraception: A History of Its Treatment by the Catholic Theologians and Canonists, Harvard University Press, p.83
13 responses to "Growing pains: Population, Consumption and Economics"