From a Political Scientist to a Nature Lover 
By Betty Cynthia Baidoo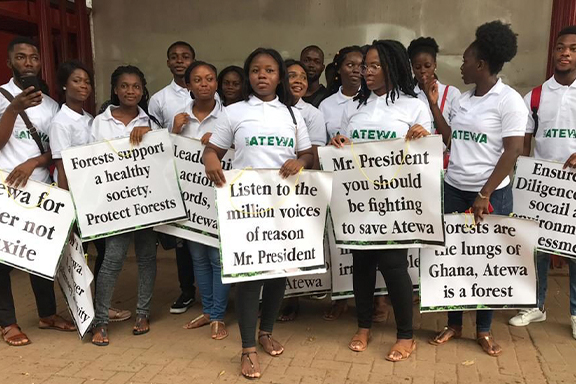 'By faith we see the glory; to which thou shalt restore us, the cross despise for that high prize which thou hast set before us.' 
― Charles Wesley, Methodist Hymn Book 411 
Once, a nature lover wrote, 'Live in each season as it passes; breathe the air, drink the drink, taste the fruit, and resign yourself to the influence of the earth.' This is how I have been enjoying and experiencing nature since I got to know how easy it was to embrace it. 
I am Betty-Cynthia Baidoo. Allow me to share my A Rocha experience in nature with you. Growing up, I was not a lover of nature. Although we had mango and guava trees in the house, I did not know their importance except for the fruits my siblings and I savoured. When it came to animals, I was so scared of insects and other wild mammals. My phobia for animals was so bad that I did not want anything to do with them. If anyone ever told me I would one day work in the environmental sector, I would ask them to 'look into their crystal ball again.' 
I remember as a child in Ghana, my family made a visit to the Kumasi zoo, a visit I thought (at that time) was a complete waste of time. I found myself asking '…so, we drove all the way here just to see animals?' Little did I know I would one day find myself in an environment that would increase the love I have for all of nature.  
In high school, I had an interest in Arts and read History, Government, Literature and Ghanaian Language. When it was time for my tertiary education, I majored in Political Science and minored in Environment. Although I had no passion for the latter, the alternative – Economics – was too difficult! Later in life I came to appreciate this choice and thought that God was stirring me in the direction of caring for His creation. 
My epic transformation happened during my mandatory National Service with A Rocha Ghana. I was assigned as an administrator in an organization running various conservation projects. My interest was in community engagement and how conservation awareness was used to encourage people to take care of their environment, but I still had little interest in the animals—until I was nominated to attend an Ecology Field School. This was a week-long programme for people building a career in conservation, held at the Bobiri Butterfly Sanctuary in the Ashanti Region of Ghana. I would not forget this experience with nature in a hurry! Through the field study programme, my fear for butterflies changed to love for them. I was fascinated by how our food was produced through pollinators such as butterflies and bees. I learned a lot about nature, its importance to humans and how human activities are destroying nature. My colleagues were incredibly supportive and involved me in many aspects of the conservation work well beyond my scope as an administrative assistant and showed me that I can make a difference. 
Upon reflection of how my career has unfolded and how my faith has grown through my work with the A Rocha family, the words of one of my favourite hymns, 'Head of Thy Church Triumphant' by Charles Wesley, comes to mind: 'By faith we see the glory to which thou shalt restore us, the cross despise for that high prize which thou hast set before us.' The conservation struggle is indeed at the core of our salvation. If Christ paid the high prize of saving us, I need to strive and contribute to the restoration of the earth which is increasingly being damaged by our human quest for 'development' so that we may see the glory of God shining upon us now and always.  

Betty Cynthia Baidoo is the Administrative Officer for A Rocha Ghana. She has been part of the A Rocha family serving in this portfolio for the past eight years. 
One response to "From a Political Scientist to a Nature Lover "