One giant problem, and a solution to dwarf it
Le Bourget, Paris. The hive of worldly activity. At the entrance, I'm handed an apple. Organic, of course. I weave my way through the flags of many nations towards the doors, caught in a crowd of trendy young people. That's when I realize − they've all got badges and I don't. Wrong entrance. I work my way around the venue, to the back, to a temporary marquee behind closed gates, where common people without badges are waiting to be let in.
On 4 December I had the opportunity to attend a conference. The purpose: advance the oceans and climate change agenda at COP21. Attending were many speakers from a variety of important organizations, presidents and politicians, all there to advocate the focus on oceans within the climate change negotiations. The focus was very much on protecting the services for us humans against threats associated with climate change. Concerns on sea level rise eating away at people's land, with whole islands potentially being underwater in my lifetime. Worries about fisheries and food security. Threats to the very oxygen that we breathe. With very little focus on protecting biodiversity.
The following day, A Rocha put on a conference in Paris to encourage Christians to think and act on climate change issues. There was a strong focus on social justice, and on the call for Christians to care for God's creation. All of God's creation.
Here's a video of the A Rocha conference in Paris:
Here I am in my volunteer T-Shirt (with Sarah French) showing how happy I was to be there!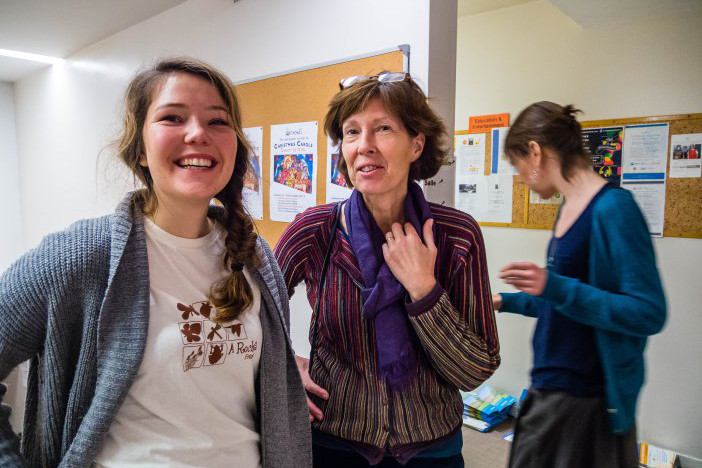 Two very different angles on one very huge problem. At COP21, the pressure's on us. We have to save ourselves. We are the heroes and the villains, the culprits and the solution. Imagine what our world leaders must feel, lying in bed at night. They are mere men and women, with the weight of the globe on their shoulders. They are not gods. They are not saviours. Culprits, yes. As am I. But solutions − how could they ever match up to the scale of the implications of climate change? Can they hold the oceans back? Can they multiply fish? Can they act in ways which are completely just and in the interest of the global population?
Who else has held the oceans in his hand?
Who has measured off the heavens with his fingers?
Who else knows the weight of the earth
or has weighed the mountains and hills on a scale?
Who is able to advise the Spirit of the Lord?
Who knows enough to give him advice or teach him?
Has the Lord ever needed anyone's advice?
Does he need instruction about what is good?
Did someone teach him what is right
or show him the path of justice?
No, for all the nations of the world
are but a drop in the bucket.
They are nothing more
than dust on the scales.
He picks up the whole earth
as though it were a grain of sand.
All the wood in Lebanon's forests
and all Lebanon's animals would not be enough
to make a burnt offering worthy of our God.
The nations of the world are worth nothing to him.
In his eyes they count for less than nothing—
mere emptiness and froth. (Isaiah 40:12–17)
There is a God who dwarfs the problem. These mere words only hint at his awesomeness. The solution to our problems is Jesus. He alone can save us. He gives us his Holy Spirit which empowers us to bring God's kingdom to Earth. That's where my hope is anchored.
Now all glory to God, who is able, through his mighty power at work within us, to accomplish infinitely more than we might ask or think. (Ephesians 3:20)
This verse has come up at some of the crucial decision points of my life so far. My imagination is pretty wild, and I spend a lot of time thinking about what God's kingdom coming to earth looks like. Yet there's no way my imagination will ever reach the depths of what God is doing; the beauty of his salvation plan, the awesome purposes and plans he has for his beloved planet. He is moving hearts into action across the world, he is stirring hope. There are people rising, who recognise Him, and depend upon his power. I hope to be counted among them.
Small image: 'The tube', by Misty
We are happy for our blogs to be used by third parties on condition that the author is cited and A Rocha International, arocha.org, is credited as the original source. We would be grateful if you could let us know if you have used our material, by emailing [email protected].